The  Conductor – Peter Kench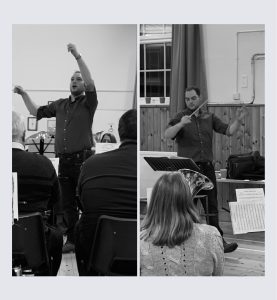 Driffield Silver Band would like to welcome Peter Kench as their new Musical Director.
Peter began playing trumpet at age of 14, going onto university where he studied musical performance and conducting as part of his degree. Peter has performed with an array of ensembles from orchestras to big bands and, of course, brass bands (all the way up to the championship section).
Peter's work as a conductor is equally varied, including notable performances with various ensembles: orchestras, big bands, concert bands and choirs across the UK.
As a brass band conductor, Peter was the founding member of the University of Hull Brass Band, going on to have tenures as Musical Director with Beverley Brass Band (in 2012) and Wakefield Metropolitan Brass Band (2018). Upon accepting the position, Peter said, "it is truly an honour to be back working with Driffield Silver Band. I have a strong affinity to DSB, given that it was the first brass band I ever played with. The players, committee and volunteers are wholly dedicated to the band and its progression. From my experience, every player comes to rehearsal and gives it their all. There is an air of excitement in rehearsals and the enthusiasm from the band is truly infectious. I look forward to a great new chapter in the band's history. I can't wait for our upcoming performances and our continued development."